Romo Black Wallpaper Edition by Romo offers exclusively designed collections infused with rich, contemporary elegance. Created for the luxury interiors market Black Edition blends sophisticated textures, innovative weaving techniques and artisan effects with a visionary colour palette.
A culmination of ideas, inspiration and original artwork has been the creative force behind the new Black Edition over the past two years. Origins derived from couture fashion, 20th Century Abstract art, folk embroidery, Indian Ikat designs and Byzantine glass mosaic are all artistically re-imagined and integrated through stunning colour in 4 spectacular collections.
With a hand painted look, ombré shading and age-old artisan techniques there is a sense of faded grandeur, whilst the vibrant colour and subtle use of metallic yarns keeps the overall feel sophisticated and modern. Stunning digital prints of large-scale florals are accompanied by intricate embroideries, damask and floral jacquard weaves, spray-dyed velvets and wonderfully tactile multi-coloured stripes.
'Black Edition has given us the opportunity to be more experimental with qualities, techniques and design in a considered, indi­vidual way. The essence of Romo continues through our signature colour palette and lively, contemporary prints. Black Edition is richer and more tactile, with sumptuous qualities such as velvets and silks giving warmth and luxury. Innovative and new techniques such as digital printing and spray dying have enabled us to create complex designs with intense colour especially created for the luxury interiors market'.   Emily Mould, Design Director. 
Click on

 the galleries bellow to see all colors & patterns available on the following collections:
ASTRATTO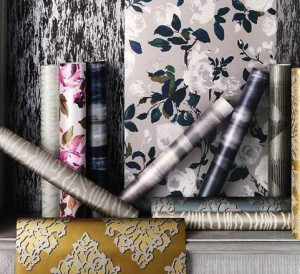 A sophisticated range of wallcovering designs originating from both traditional and modern heritage that have been beautifully adapted, adorned and coloured for a fresh contemporary look. Featuring a watercolour floral with flashes of vibrant colour, a distressed damask adorned with shimmering beads, a dramatic spray-effect design, and a sophisticated water mark with subtle iridescence. The collection skillfully combines a variety of innovative techniques, including cutting-edge digital printing, embossing, flocking and bead adornment all on non-woven grounds.
DESIRE BY JESSICA ZOOB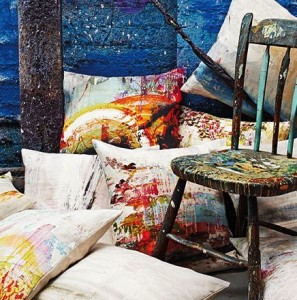 Contemporary impressionist painter Jessica Zoob trained at Central School of Art and Nottingham University. She exhibits her work regularly both in the UK and worldwide. Zoob's paintings create bright new worlds rich in imagination yet gently infused by emotion. Working in collaboration with Romo Black Edition her emotionally charged paintings have translated beautifully onto fabrics, wallcoverings and cushions. This joyous collection includes intricately printed fine linens, striking panels, exquisite velvets, dramatic wallcoverings and divine cushions.
XANTHINA
An imaginative and diverse collection of 11 wallcoverings, which co-ordinates perfectly with the Xanthina fabric collection and also makes its own impressive statement. The collection features two contrasting floral designs, bold fretwork, classic damask, exciting abstract designs and a smart, versatile stripe appealing to a broad market. A variety of innovative techniques include flocking, beads, metallic effects all on non-woven grounds.